Nancy Gillis, CEO, Global Electronics Council
The Global Electronics Council is proud of our more than decade-long history supporting large-scale purchasers, both public and private sectors, in their sustainable procurement activities. As purchasers globally demand electronic products and services that are both environmentally and socially sustainable, we recognize the need to have a name that reflects our commitment to meeting this demand.
Starting today, February 1, we will change our name from the Green Electronics Council and become Global Electronics Council.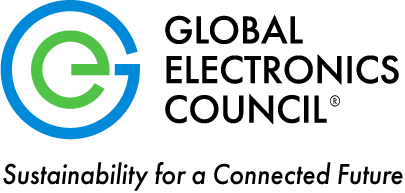 What's Changing
This is primarily a name change.  It also allows us to update our logo and add a tagline highlighting our commitment to making this increasingly connected world sustainable.
As the proud managers of the EPEAT ecolabel, rest assured that this name change does not impact EPEAT.
Everything that we are currently doing will continue, and you can expect the same high level of support and resources that you've always gotten from us. But 2021 is also the year that we are launching our four-year strategic plan, so you will see an expansion of our activities toward our mission.
While our website address will change, our existing URL will continue to bring you to our website. We will redirect emails and web traffic from our old addresses for some time, so there won't be any immediate change to how you can reach us.
Why Are We Changing Our Name?
GEC has always been a mission-driven not-for-profit that collaborates to achieve a world of only sustainable electronic products and services. We embrace the tremendous benefits that technology provides but refuse to accept those benefits at the price of People or Planet.
As purchasers' understanding of sustainability has evolved, we have evolved with it.  We expanded EPEAT's criteria from addressing lifecycle environmental impacts to also addressing social impacts, launched our Purchaser Guide series with the first focused on procuring IT products from socially responsible supply chains, expanded our sustainable procurement training to address needs of EU-based purchasers, and became a founding partner of the global Circular Electronics Partnership. Our new name better reflects our evolution and our dedication to helping purchasers globally. It also reflects EPEAT's status as the leading global ecolabel for technology products and services!
Our new name also supports the additional mission-driven activities we will be undertaking as part of our four-year strategic plan. We have spent a decade helping purchasers leverage their power for a more sustainable world and as this world becomes increasingly interconnected, it made sense for us to change our name.
Website URL and Email Contacts
As GEC moves forward under our new name, Global Electronics Council, you will notice a handful of changes. In addition to the name of the organization, we will be using a new logo, and you will notice slight design changes to our materials.
We will soon be redirecting traffic from our old website URL and emails, but you should still be able to find us through the old address, and we will redirect our emails and website through 2021, so you can still reach us with your current contact information.
However, at some point in the future, we will discontinue the redirects, so we recommend bookmarking our new website, and changing your address book contacts to reflect our new email addresses.
Thank you for being part of GEC's success to date, and we are excited to continue working with you as we expand our global impact under the new name of Global Electronics Council.