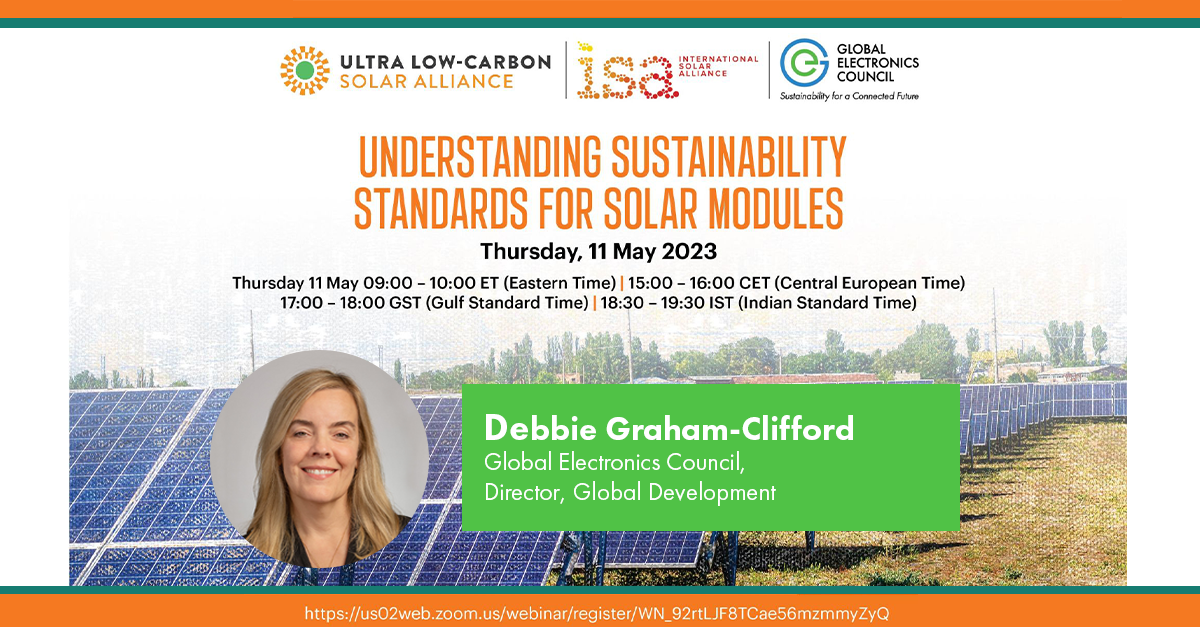 DATE: May 11, 2023
TIME: 18:30 – 19:30 (IST)
LOCATION: Virtual. Register here
ISA along with ULCSA and GEC is hosting a workshop on 'Understanding Sustainability Standards for Solar Modules' This workshop aims to bring subject matter experts, associations, policymakers, developers and manufacturers to discuss the EPEAT (Electronic Product Environmental Assessment Tool) standards, the policies & regulations around this subject and to increase awareness amongst manufacturers about the EPEAT standards. As the world moves towards Energy Transition, such standards will gain increasing importance.
GEC Speakers:
Debbie Graham-Clifford
Director, Global Development
As Director, Global Development, Debbie Graham-Clifford drives and measures purchaser demand and manufacturer supply for sustainable IT products and services. Debbie is a sustainability professional who most recently worked with Sims Lifecycle Services, assisting global clients by maintaining transparency in their global supply chain related to the disposition of IT assets.
She has landed million-dollar contracts and grown a global subcontractor network by 150% across Canada and Latin America. She pushed to move the organization into the global space, championed a global service delivery model process, and forged impactful partnerships with Fortune 500 enterprises to devise strategies to drive revenue back into their businesses utilizing innovative recycling methods and reuse and resale opportunities. Debbie recently completed an Executive & Organizational Leadership Program through UC Davis Continuing and Professional Education.