USAID: Harnessing the Power of Circular Economy for Sustainable Renewable Energy Supply Chains with Global Electronics Council
March 23 @ 9:00 am

-

10:30 am

UTC+7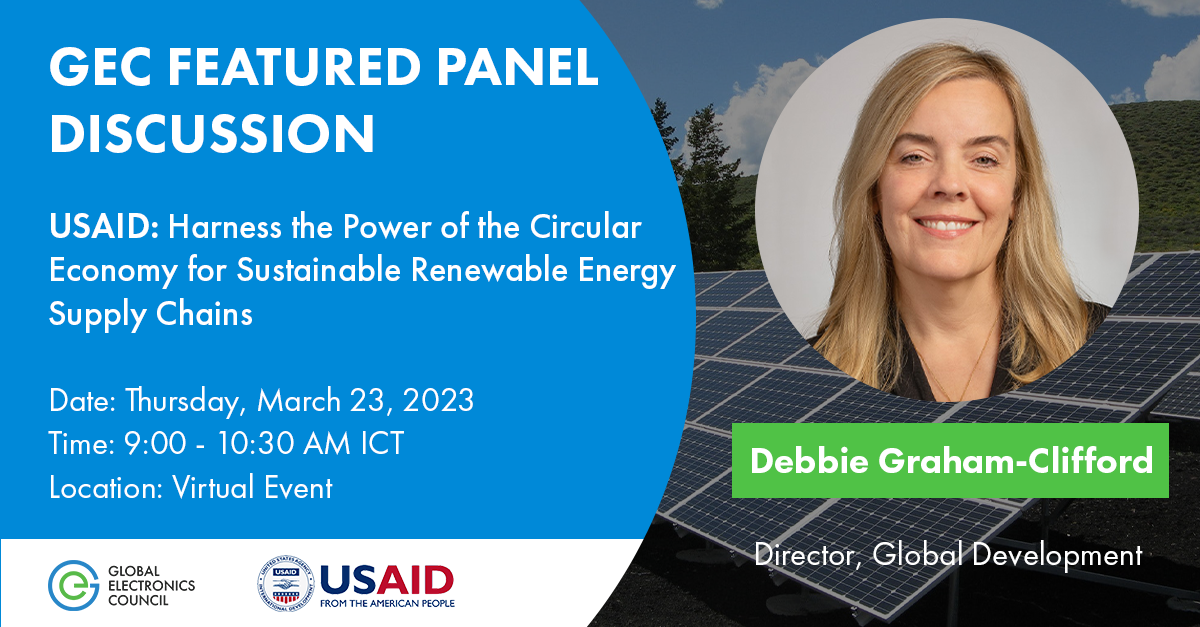 DATE: Thursday, March 23, 2023
TIME: 9:00 AM – 10:30 AM ICT (Indochina Time)
LOCATION: Virtual. Register here
GEC SPEAKER: Debbie Graham-Clifford
USAID's Power Sector Learning Series will host a webinar on Thursday, March 23, 2023 on the use of sustainability ecolabels such as EPEAT as an effective tool to advance sustainable renewable energy supply chains and promote the transition from a linear economy to a circular economy. In recognition of the global scale up of solar photovoltaic deployment, the Global Electronics Council developed an EPEAT category for solar photovoltaic modules and inverters (PVMI) and has recently released the Ultra-Low Carbon Solar Criteria to help purchasers identify and procure sustainable solar photovoltaic modules and inverters and provide market recognition for conforming products.
SPEAKERS
KEY SPEAKING POINTS
Transforming how we manufacture, deploy, and decommission renewable energy equipment is imperative to reducing global emissions to net zero by 2050.
Adopting and supporting ecolabels for solar PVMI can create a lower-emission supply chain for materials, reduce waste, create jobs, empower women, and strengthen communities.
Both solar PVMI manufacturers and buyers can commit to making renewable energy equipment truly a clean power source throughout its life cycle, including managing substances in the product, manufacturing energy and water use, product packaging, end-of-life recycling, and corporate responsibility.
ABOUT USAID
USAID is the world's premier international development agency and a catalytic actor driving development results. USAID's work advances U.S. national security and economic prosperity, demonstrates American generosity, and promotes a path to recipient self-reliance and resilience. The purpose of foreign aid should be ending the need for its existence, and we provide development assistance to help partner countries on their own development journey to self-reliance – looking at ways to help lift lives, build communities, and establish self-sufficiency. For more information visit their website at https://www.usaid.gov. 
This event is presented in partnership with USAID's Scaling Up Renewable Energy (SURE) program. The program helps partner countries meet bold international climate commitments by accelerating their transition to more widely accessible, affordable, reliable, and sustainable energy that spurs economic growth, powers health systems, and reduces emissions.