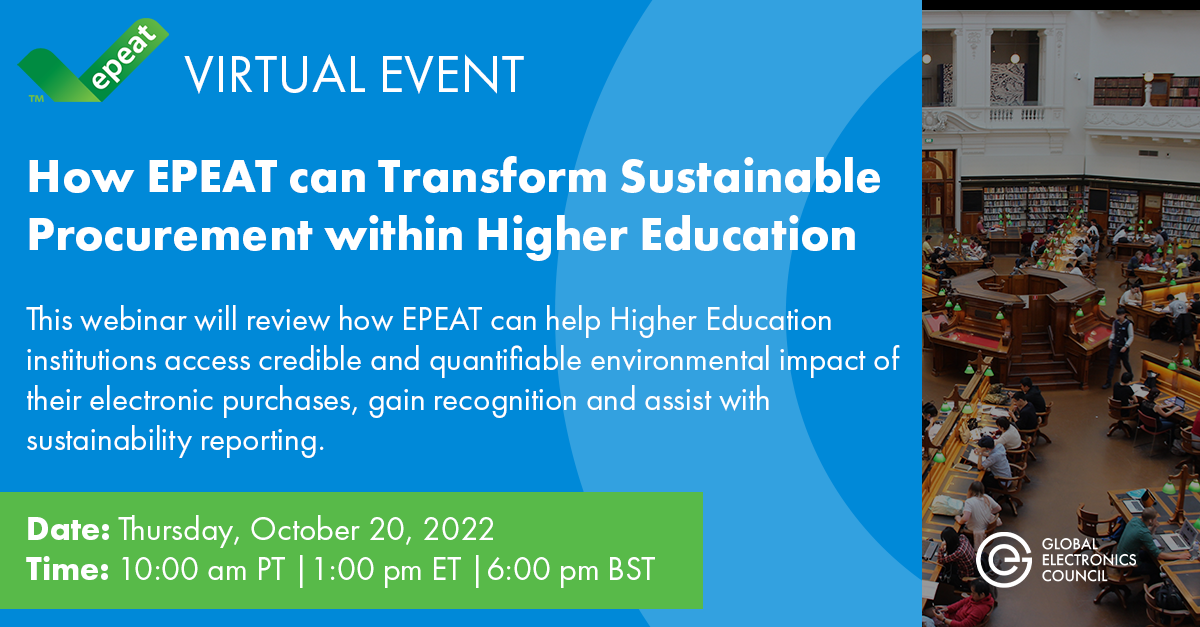 A critical goal for many higher education institutions is to shape the future for the better. Administrators spend countless hours planning toward this goal through coursework and enrichment programs. EPEAT allows these institutions to intensify their impact on environmental and human rights issues through purchasing sustainable electronics.
EPEAT is the world's leading electronics ecolabel. Accordingly, procurement professionals from around the globe use EPEAT and its powerful online Registry as a free resource to find sustainable electronics.
EPEAT's free online Registry lists thousands of products, more than any other electronics ecolabel. Over 50 established and emerging brands have registered EPEAT products in the following categories: Computers and Displays, Imaging Equipment, Mobile Phones, Network Equipment, Photovoltaics, Servers, and Televisions.
EPEAT has remarkable benefits for institutions. It enables benefit calculators to provide credible, quantifiable impact and cost savings data. It gives purchasing intuitions opportunities for recognition, including credit toward a Sustainability Tracking, Assessment & Rating System™ (STARS) Seal. It also assists institutions with AASHE, CDP, GRI, SASB, and SDG Reporting.
To learn more about EPEAT and how it can turn routine electronics procurement into a powerful sustainability impact opportunity, join our virtual event on Thursday, October 20, 2022, at 10:00 am PT/1:00 pm ET/6:00 pm BST.