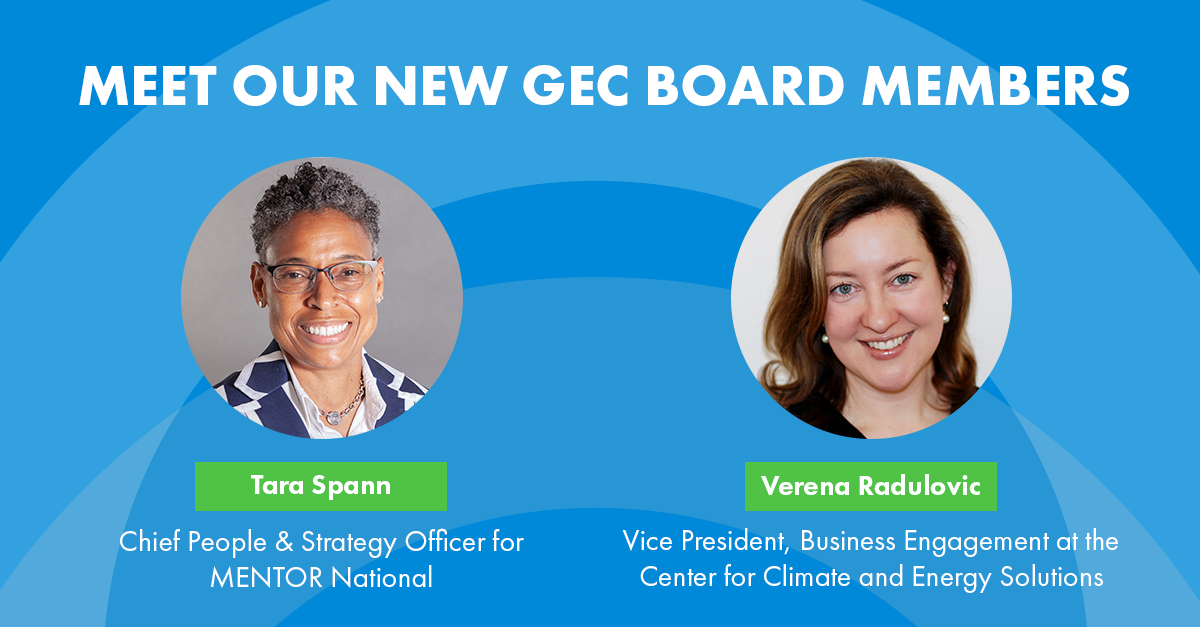 Effective January 1, Verena Radulovic and Tara Spann are the GEC Board's two newest members. GEC is excited about the fresh perspectives and new experiences our two newest members will bring to our Board of Directors.
Verena Radulovic
Verena Radulovic is currently the Vice President, Business Engagement at the Center for Climate and Energy Solutions (C2ES). In this role, she works with businesses, policymakers, and other stakeholders to advance business action on climate mitigation and resilience and helps to galvanize business support for ambitious, practical climate policies and solutions. She also oversees both the Business Environmental Leadership Council (BELC) as well as C2ES' work on climate-related financial risk disclosure, supply chains, resilience, and the annual Climate Leadership Conference. 
Previously, Ms. Radulovic served as Lead, Center for Corporate Climate Leadership at the US Environmental Protection Agency (EPA) where she was a strategic advisor to companies seeking to reduce greenhouse gas (GHG) emissions through the purchase and adoption of renewable energies.
Tara Spann
Tara Spann, currently the Chief People & Strategy Officer for MENTOR National, brings considerable experience in diversity and social justice issues to GEC's board. She is responsible for developing people, processes, and strategies with a focus on ensuring that MENTOR's staff is best positioned to achieve ambitious organizational goals. 
Her impressive resume of experience before her time at MENTOR National includes serving as the Head of Diversity & Inclusion for Eversource Energy, Director of Global Economic Inclusion & Supplier Diversity for Merck & Co. Inc., Associate Director & Executive Lead, Supplier Diversity for Bristol-Myers Squibb and Executive Director, and as Executive Director, Diversity Initiatives at Staples. While at Staples, she worked closely with Vice Chair Mark Buckley. 
See GEC's About page to learn more about each of our new board members.