EPEAT Climate+ for Manufacturers 
August 10 @ 10:00 am

-

11:00 am

UTC-5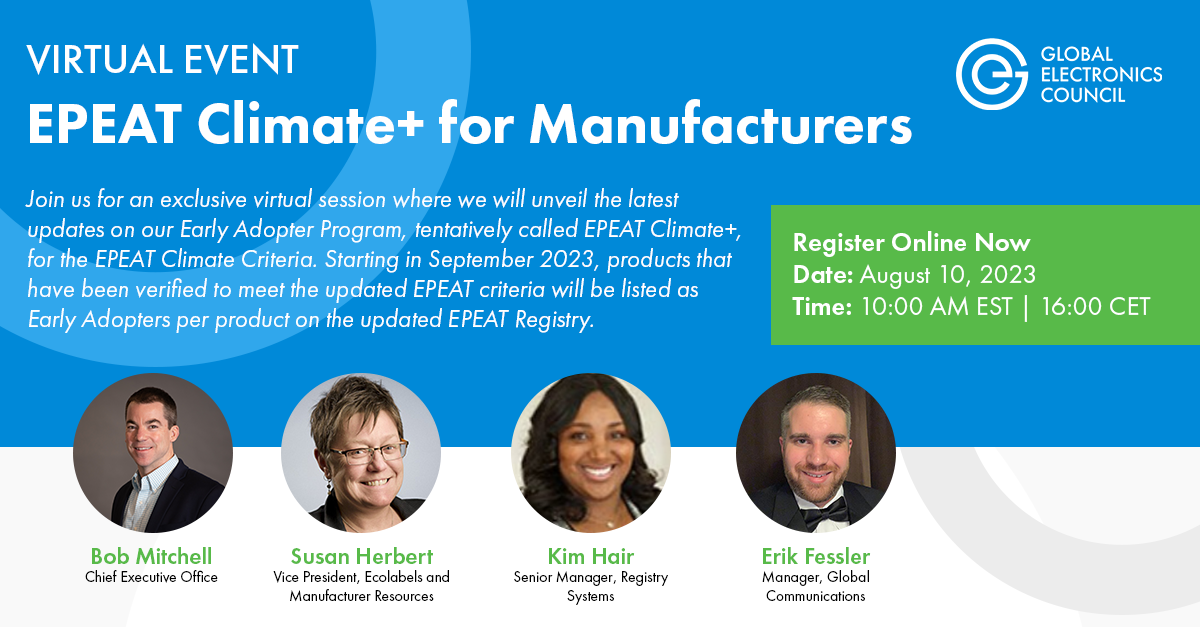 EPEAT Climate+ for Manufacturers
DATE: Thursday, August 10, 2023
TIME: 10:00 AM – 11:00 EST | 16:00 – 17:00 CET
WHERE: GoToWebinar Virtual Event.
This virtual event is by invitation only for exisiting/upcoming EPEAT manufacturers. If interested, email epeat@gec.org.
Join us for an exclusive virtual session where we will unveil the latest updates on our Early Adopter Program, tentatively called EPEAT Climate+, for the EPEAT Climate Criteria. The EPEAT Climate Criteria offer a wide range of technology stakeholders the opportunity to bring visibility and action to the climate impacts of electronics. Manufacturers can gain marketplace recognition and establish themselves as leaders in low-climate impact manufacturing. Starting in September 2023, products that have been verified to meet the updated EPEAT criteria will be listed as Early Adopters per product on the updated EPEAT Registry. All products will have to meet the Climate Criteria by December 31, 2025. As this date approaches, the Registry will become an increasingly powerful tool for organizations and their electronics procurement.
GEC Featured Speakers
Bob Mitchell, Chief Executive Officer
Susan Herbert, Vice President, Ecolabels and Manufacturer Resources
Kim Hair, Senior Manager, Registry Systems
Erik Fessler, Manager, Global Communications