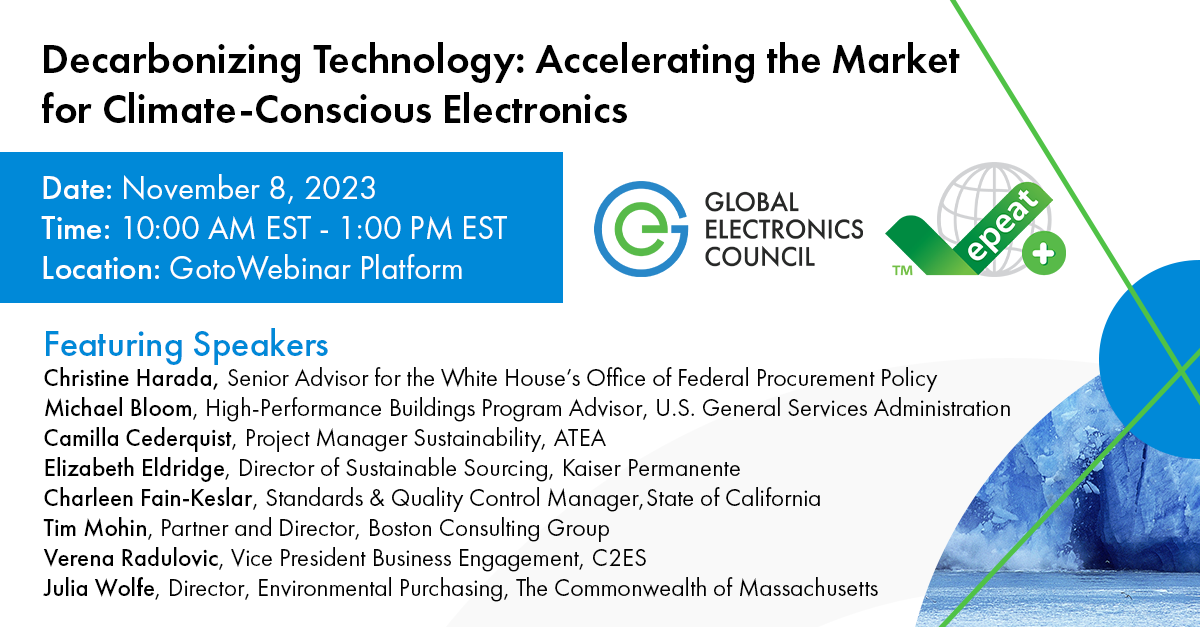 On November 8, 2023, the Global Electronics Council® (GEC) invites you to an exciting virtual event, "Decarbonizing Technology: Accelerating the Market for Climate-Conscious Products". This virtual event will bring together sustainability catalysts to explore the evolving supply and demand for products designed with climate in mind.  Join us for engaging speakers, panels, and discussions aimed at directing our collective efforts to address climate change.
Here's what you can expect during the virtual event:
Insights from Sustainability Leaders: Gain valuable insights from prominent figures in the community as they discuss the challenges and opportunities in stimulating the market for sustainable electronics products.
Collective Dialogue: Participate directly in the event by engaging with speakers and GEC experts through virtual audience engagement opportunities.
Unveiling EPEAT Climate+: Get an in-depth look into the EPEAT Climate+™ designation, including its intricacies and how it is set to reshape the IT industry.
Real-world Impact: Witness firsthand how EPEAT Climate+™ Purchasing Leaders and Manufacturing Champions are actively implementing this product designation, driving tangible change and sustainability in the market.
Register now for more event details, including an engaging speaker lineup as well as the full agenda. Mark your calendars for November 8, 2023, from 10 a.m. – 1 p.m. US EST, and be part of this pivotal conversation in the world of sustainable IT procurement.