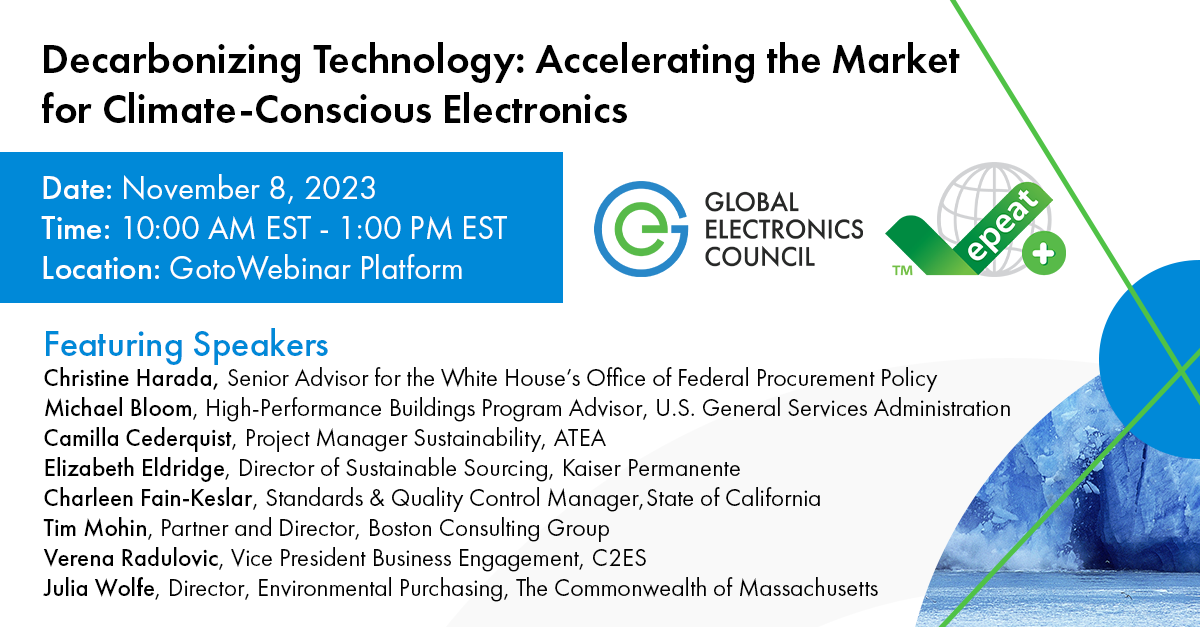 Decarbonizing Technology: Accelerating the Market for Climate-Conscious Electronics
DATE: Wednesday, November 8, 2023
TIME: 10:00 AM – 1:00 PM EST
LOCATION: Virtual Event
Register to attend the event here.
Public and private purchasers of electronics products and services are proactively working to decarbonize their supply chains. Simultaneously, technology manufacturers are placing increasingly sustainable products on the market with lower-carbon lifecycles while also investing in progressive corporate activity to reduce their Greenhouse Gas (GHG) footprints. Matching supply and demand in this arena can be challenging without proven, trusted partners and systems to ensure the market for these products is transparent and credible.
The Global Electronics Council (GEC) is launching the EPEAT Climate+ product designation within its premier EPEAT eco-label system to stimulate the market for products developed with GHG reduction in mind.  Benefiting purchasers, manufacturers, investors and other stakeholders, products that meet advanced climate mitigation criteria can be easily identified to move the market towards a sustainable future.
Join GEC on Nov 8, 2023, for a virtual event, entitled Decarbonizing Technology: Accelerating the Market for Climate-Conscious Electronics where sustainability leaders converge to learn more about EPEAT Climate+ and the benefits it provides to all stakeholders. During the on-line portion of the event, you will hear from leaders within the community on the challenges and opportunities of sustainable purchasing, the details of EPEAT Climate+ as well as how the product designation is being put into action by EPEAT Climate+ Purchasing Leaders and Manufacturing Champions.
See full comprehensive agenda here.
Featuring Panel Speakers 
Michael Bloom,  High-Performance Buildings Program Advisor, U.S. General Services Administration
Camilla Cederquist,  Project Manager Sustainability, ATEA
Elizabeth Eldridge, Director of Sustainable Sourcing, Kaiser Permanente
Charleen Fain-Keslar, Standards & Quality Control Manager, State of California
Tim Mohin,  Partner and Director, Boston Consulting Group
Verena Radulovic, Vice President Business Engagement, C2ES
Julia Wolfe, Director, Environmental Purchasing, The Commonwealth of Massachusetts
Global Electronics Council Moderators 
Bob Mitchell, Chief Executive Officer
Patty Dillion, Vice President, Criteria and Category Development
Susan Herbert, Vice President, Ecolabels and Manufacturer Resources
Emmanuel Nwodo, Senior Manager, Global Relations