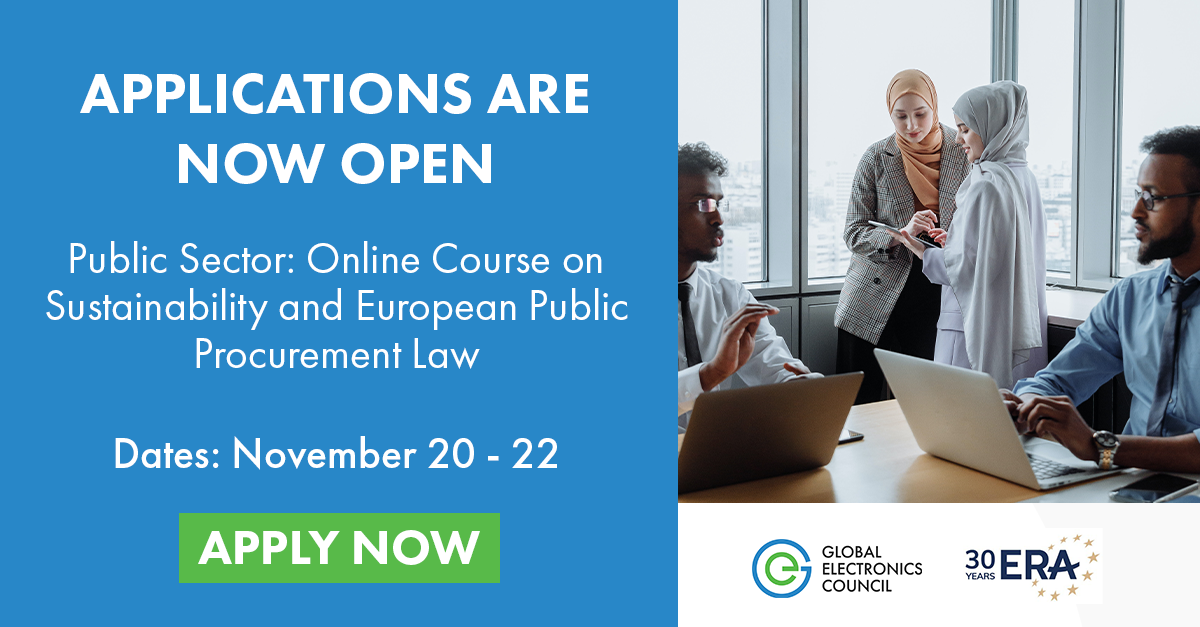 GEC & ERA EU Public Procurement Law & Sustainability November 2023 Online Course
DATE: November 20 – 22, 2023
LOCATION: Virtual Event
As a sustainability-focused non-profit, GEC is committed to providing procurement and policy professionals with exceptional educational opportunities to support their engagement in sustainability. The online course focuses on an introduction to European Public Procurement Law and Sustainability and how EU public procurement can be leveraged for sustainability. The course is comprised of seven modules, each led by an expert speaker; it includes opportunities for group interactions and concludes with a simulation exercise. Participants can receive 13 Continuing Personal Development (CPD) recognition for their participation.
This invitation-only course is an online workshop for procurement and policy professionals. It's an introduction to European public procurement law and how it can be leveraged for sustainability. The workshop is facilitated by the Academy of European Law (ERA) and supported by the Global Electronics Council (GEC).
Objective
This course will provide an introduction to European public procurement law, including environmental and social considerations.
Who should attend?
Procurement practitioners and environmental and social policy makers seeking an introduction to sustainability and European public procurement law.
Benefits
Relevant introduction to EU public procurement law, including the latest developments
Practical approach
Top-level speakers with diverse profiles
Designed to facilitate online participation with focused modular sessions
Key topics
Essential concepts and underlying principles in EU public procurement
Environmental and social inclusion in the public procurement process
Selection and award criteria
Strategic procurement
e-Procurement
Procurement by EU Institutions and bodies
Overview of relevant impacts from the European Green Deal
Group simulation exercise to emphasize learning Participants will be able to deepen their knowledge through pre-read material, lectures, and interactive exercise simulation.